Roberto Micera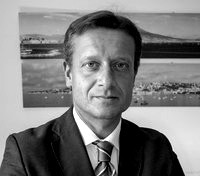 RTD-B Researcher in Economics and Business Management, University of Basilicata
Roberto Micera (PhD) is Assistant Professor of Management (Italian RTD-B), at Department of Mathematics, Computer Science and Economics (DiMIE) – University of Basilicata, where he teaches "Territorial Marketing". From 2012 to 2021, he was Researcher and Senior Researcher of the National Research Council of Italy (CNR) at Institute for Research on Innovation and Services for Development, before, and Institute for Studies on the Mediterranean, after.
He has National Qualification for the role of Associate Professor in Management (13/B2) and he is PhD in Business Administration. He holds a Master's Degree in Economics of Tourism from the University Luigi Bocconi in Milan and a visiting scholar from the Fisher College of Ohio State University.
He has been scientific coordinator of some tourism research projects and he is in the team of numerous international and national research activities on the management and organization of innovation in tourism enterprises and destinations (smart tourism destination).
His research is related to the management of innovation in firms and networks of tourism enterprises, destination management, destination governance, the competitiveness of destinations and the impact generated by innovation on tourism supply systems and smart tourism.
He teaches in master's degrees, advanced training courses and specialization courses on the topics of Tourism Management and Marketing.
He has also many job assignments in the tourism sector and in corporate management working with businesses, organizations, associations and local tourism operators.
Select the day that you prefer
Find the event interested
12 OCTOBER | 10:25 - 12:00
Italy Arena - Pav. A5