Alfredo Passeri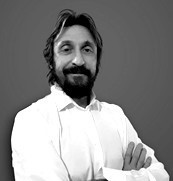 E-Commerce pre-post Sales Manager
Part of the Nexi E-commerce Team as pre and post sales "e.nnovator".
Graduated in Engineering, he has been following the world of digital payments with interest and curiosity for years, with specialization in e-commerce, to always identify new innovative solutions and make easier to adopt online payment, transforming the "customer journey" in a fluid and natural shopping experience.

Alfredo has also created the "worry-free payment", solution that aim to help the hospitality industry in Italy and Europe.
"Life is that thing that happen between a purchase and another" he used to say.
Select the day that you prefer
Find the event interested
12 OCTOBER | 10:30 - 11:30
Social Media Lounge - Pav. A2
12 OCTOBER | 15:30 - 16:30
Social Media Lounge - Pav. A2
13 OCTOBER | 10:30 - 11:30
Social Media Lounge - Pav. A2
14 OCTOBER | 10:30 - 11:30
Social Media Lounge - Pav. A2